---
Searching Jobs in Nebraska Just Got Easier

You can now take your job search "on the go" with the FREE mobile app from NebraskaBehavioralHealthJobs.com. 
Learn more about the app here.
---
Organization Spotlight - Northeast Nebraska Behavioral Health Network

The Northeast Nebraska Behavioral Health Network (NeNeBHN) is developing strategies to close this gap and expand access to mental health services with the help of a three-year grant from the Health Resources Services Administration (HRSA) of the U.S. Department of Health and Human Services.
Read more and connect with the NeNeBHN here.
---
Resident of the Year - Spencer Gallner, M.D. 

Lasting Hope Recovery Center (LHRC)awarded the 4th Annual Resident-of-the-Year Award to Spencer Gallner, M.D ., a third-year resident from Omaha. The other nominees included Alyssa Hickert, M.D. and David Marshall, M.D. Read more. 
---
Dr. Liu Named Interim Chair, Dept. of Psychiatry

Howard Liu, M.D. , has been named the interim chair of the UNMC Department of Psychiatry. Dr. Liu, who has been at UNMC for eight years, is a nationally recognized educator, behavioral health workforce expert and practicing child psychiatrist. During his time at UNMC, he has served as the assistant vice chancellor for faculty development, and he will continue as the director of the Behavioral Health Education Center of Nebraska. Read more.
---
Professional Spotlight - Susan Feyen-Reay 

As a 20-year veteran in social work, Susan Feyen-Reay has contributed to the profession through her work in clinical practice, administrative programs and educational programs. Read more.
---
Nebraska System of Care Website Offers Training Resources

Providers, students, and families can find numerous free training resources covering a wide variety of topics from introductions to the System of Care model to specific treatment considerations within a System of Care at the SOC training website here.
---
BHECN's Legislative Report Available 

View BHECN's overview of our efforts to engage, recruit, prepare, train and retain the behavioral health workforce in Nebraska. Read more, including workforce stats showing a nearly 15% increase in the behavioral health workforce since 2010.  Read more...
Read recent articles from the Omaha World-Herald:
Editorial: Nebraska makes gains on addressing state's mental health challenges
Nebraska's behavioral health workforce has grown, report says
---
Shrinking the Psychiatrist Shortage

BHECN's Dr. Howard Liu weighs in on solutions in a recent article in Managed Care Magazine. Read more…
---
Faculty Spotlight: Julia Houfek, PhD, APRN-CNS

Dr. Julia Houfek , professor at UNMC's College of Nursing, is retiring after 45 years as a psychiatric mental health nurse and a nurse educator. Dr. Houfek has been a champion for psychiatric nursing and the important role nurses play in behavioral health care. Read more...
---
Editorial Highlights Statewide Need for Mental Health

BHECN is proud to be among those stakeholders addressing behavioral health workforce shortages in Nebraska. Read this editorial in the Omaha World-Herald, highlighting the need for mental health and substance use services. Read the editorial.
---
A Visit with Rural Partners

BHECN embarked on a two-day trip in October to visit rural partners in the state, with stops in North Platte, Scottsbluff, Chadron and Rushville. Learn more.
---
2nd Annual Psychiatric Nursing Workforce Summit - Presentations Available

BHECN and UNMC College of Nursing hosted the 2nd Annual Psychiatric Nursing Workforce Summit on Nov. 1 at the Scott Conference Center with nearly 100 stakeholders in attendance. Read more and view presentations and videos here.
---
Collaborative Care Leads to Better Behavioral Health Access

The goal of collaborative care is for better outcomes, lower cost, and better experience of care for patients. BHECN and partners hosted a conference, "Applying the Collaborative Care Approach: Evidence-based Mental Health Delivery in Primary Care Settings".  
Read more about Collaborative Care.
---
Poster Highlights Addiction Counselor Training in the NE Panhandle

BHECN's Dr. Tina Chasek and Nick Brotzel presented a poster, "A Novel Approach to Addiction Counseling Training in Underserved Native, Rural and Frontier Areas." BHECN is collaborating with Chadron State College to enhance their curriculum to train students in alcohol and drug counseling at the masters, undergraduate and high school diploma levels. View the poster.
---
Two Grants to Expand Rural Behavioral Health Services

BHECN announces two new grants impacting rural behavioral health, both funded by the Health Resources and Services Administration (HRSA): 
Grant Provides Tuition Assistance for Addiction Counselors and Community Health Workers
Grant Expands Rural Behavioral Health Services with Training for Master's and Doctoral-level Students
---
Rural areas face bigger mental health shortages 

BHECN's Co-director, Dr. Brent Khan, recently visited with the Columbus Telegram about rural mental health shortages. Learn more.
---
E-curriculum earns Dr. Liu national recognition

BHECN's Director, Dr. Howard Liu, is the recipient of the Creativity in Psychiatric Education Award from the American College of Psychiatrists. Read more about the e-learning curriculum Dr. Liu helped develop, which includes a peer-reviewed library of psychiatry cases.  Learn more.
---
Ambassador Spotlight - Meet Emily J. Donoghue, MSE

Emily discovered her passion for working with people living with mental illness and substance use disorders during her time working at a long-term treatment facility.
With support and encouragement from her coworkers, she obtained a Bachelor of Psychology and a Master of Science in Education in Counselor Education/Clinical Mental Health Counseling from Wayne State College. She just completed an internship where she gained new experience working with children and families and aspires to pursue a Ph.D. in Clinical Psychology. Read more
---
Introducing Careers in Behavioral Health

BHECN created a new brochure, "Pathways to a Career in Behavioral Health" featuring eight licensed behavioral health careers and the academic pathways to get there. Download the brochure, view career testimonial videos and find more resources here. Read more...
---
Ambassador Spotlight - Meet Alexandria Bechtle 

After being forced to give up her true love, soccer, Alexandria was faced with a difficult time in her life. Inspired by friends and health professionals, she found a new path and a new interest in becoming a counselor. Learn more...
---
Medication-Assisted Treatment (MAT) Summit Addresses Growing Opioid Concerns 

More than 180 professionals attended a Nebraska Summit on "Medication-Assisted Treatment (MAT) for Substance Use Disorders" held in Omaha this month. The summit addressed the role of medication-assisted treatment as a tool for recovery.   Read more...
---
BHECN Plays Large Role in System of Care

As one of many partners in the Nebraska System of Care (NeSOC), BHECN is collaborating with national experts in the behavioral health workforce to provide training resources for providers in meeting the needs of children and families utilizing the system.
---
Ambassador Spotlight - Meet Esmeralda Bravo-Ramos

Growing up in Cozad, Neb., as a first generation Mexican American, Esmeralda Bravo-Ramos was determined to make life easier for those in need. Inspired by a movie and her high school counselor, Bravo-Ramos pursued an undergraduate degree in social work and is weeks away from receiving a master's in social work. "My career aspiration is to be in a role where I can create the biggest change; I am a macro thinker," she said.
---
Rural students gain hands-on experience at Farm Camp 2017

The fifth annual FARM CAMP (Frontier Area Rural Mental-Health Camp and Mentorship Program) took place last month in Rushville, Neb. This year, 11 students attended from rural communities ranging from Howells to Scottsbluff.
---
Stigma project inspires origami Messenger Bird – Watch the Video

Graduates of the 2017 UNMC High School Alliance class created the Messenger Bird this spring for a stigma assignment to increase awareness of depression and provide mental health resources. Learn the inspiration behind the origami Messenger Bird and download detailed instructions to make your own.
---
RFI grant to fund mental health curriculum

Mental health stigma is the subject of a recent Rural Futures Institute (RFI) competitive award titled, "Ending Mental Health Stigma & Promoting Mental Health among Rural Nebraska College and University Students."
---
Ambassador Spotlight - Meet Kristen Hembree, PhD, Licensed Psychologist

Dr. Kristen Hembree has been interested in psychology since she was in high school. She has always had a passion for working with children, and this passion led her to eventually study school psychology in her graduate training.
---
School Mental Health Summit 2017

The 2017 School Mental Health Summit gathered stakeholders from across Nebraska who have an interest in sharing best practices and learning new strategies to advance mental health processes and services in schools.
---
Ambassador Career Engagement Award Recipients

BHECN has launched the Ambassador Career Engagement Awards, providing funding to promote behavioral health care professions to Nebraska youth.
---
BHECN Director Awarded Scholarship to Pursue MBA

BHECN's Director, Dr. Howard Liu has been awarded a scholarship to pursue an executive M.B.A. in health administration at the University of Colorado-Denver's business school. 
---
Ambassador Spotlight - Meet Emily Soener, PLMHP, PLCSW

Emily Soener got her start in social work by volunteering for the Lawrence-Douglas County Housing Authority as an undergrad. After being hired full time following graduation, she realized social work might be an area she'd like to pursue further. 
---
Integrating Mental Health and Primary Care

Nebraska faces a shortage of mental health practitioners, particularly in rural areas of the state. One of the ways to reduce the barriers of access to mental health in these areas is establishing an on-site mental health professional in primary care clinics  
---
High School Alliance Student Heads to National Competition

High School Alliance student Lea Sobrilsky will be heading to Orlando to participate in the HOSA national competition this June, competing in the Behavioral Health category.
---
High School Alliance Course Introduces Behavioral Health Concepts and Careers 

Students are learning valuable lessons about common mental health diagnoses and treatment, types of careers in behavioral health and the impact of mental health stigma.   
---
Ambassador Spotlight - Meet Erin Kindred 

Erin Kindred is not your traditional medical student. After years working in state government jobs, she had a change of heart and realized her passion was in helping people.  
---
High School Ambassador Conference to Encourage Students Exploring Behavioral Health Careers 

BHECN hosted the 5th annual High School Ambassador Conference in Kearney on April 1 to introduce high school juniors and seniors from throughout Nebraska to careers in behavioral health.  
---
Videos Designed to Spark Interest in Behavioral Health Professions 

BHECN recently produced a series of videos to introduce high school and college students to professions in behavioral health, including psychiatry, psychology and psychiatric nursing. 
---
Interprofessional Mentorship Dinner Connects Students with Pros  

BHECN hosted the 6th annual Mentorship Dinner at the historic Joslyn Castle on January 25, bringing together 120 students, trainees, providers, educators and advocates to network, mentor and make connections. 
---
Native American Youth Learn About Behavioral Health Careers 

More than 100 high school and college students were introduced to a variety of professions in behavioral health at the South Sioux City Ambassador Conference in October. Speakers included Frank LaMere, providing an inspirational message of healing, and Grace Johnson, addressing the importance of understanding trauma.  
---
---
Attitudes, Knowledge and Skills Key to Training Counselors

BHECN Kearney Director and University of Nebraska at Kearney Assistant Professor, Tina Chasek, Ph.D., recently shared her three-pronged approach to training addiction counselors
---
---
Connect with Nebraska Behavioral Health Job Opportunities

NebraskaBehavioralHealthJobs.com recently launched a quarterly newsletter featuring tips from recruiters, latest job postings and information about the only website in Nebraska exclusive to behavioral health jobs, internships and volunteer opportunities. And did we mention, it's free! 
---
HRSA grant will help children in underserved areas
The Behavioral Health Education Center of Nebraska (BHECN) and the Munroe-Meyer Institute (MMI) were recently awarded a $300,000 grant from the 
Health Resources and Services Administration (HRSA) to fund internship training for clinical counselors to address the behavioral health needs of children, adolescents and families in underserved areas of Nebraska.
---
Rural State Solutions Webinar Now Available to View

BHECN shared innovative ideas around solving the state's behavioral health provider shortage challenge in the first of four State Solutions in Workforce webinars hosted by SAMHSA, the Behavioral Health Education Center of Nebraska (BHECN), the Annapolis Coalition, the National Association of State Mental Health Program Directors (NASMHPD) and the National Association of State Alcohol and Drug Abuse Directors (NASADAD).   
---
BHECN Presented Integration Model at NRHA Conference

The BHECN team presented "Integrated Behavioral Health Models in Primary Care" at the Nebraska Rural Health Conference this summer. Behavioral health professional shortages exist in many rural Nebraska communities. The concept is to provide behavioral health within the primary health care setting, allowing the integrated health team the opportunity to treat behavioral health problems where they first arise, which is usually at the primary physician's office. This model of care can also help save time and money for the practice and lead to better health outcomes.
---
Dr. Watanabe-Galloway Joins BHECN as Research Director

Shinobu Watanabe-Galloway, Ph.D., has joined the Behavioral Health Education Center of Nebraska (BHECN) as research director.
Dr. Watanabe-Galloway, associate professor and vice chair of the department of epidemiology, College of Public Health, will focus on strengthening BHECN's workforce evaluation and reporting efforts to produce evidence-based practices.
---
The Nebraska Behavioral Health Workforce Dashboard

BHECN and UNMC's College of Public Health have developed the Nebraska Behavioral Health Workforce Dashboard, a tool designed to help policy makers, employers, and behavioral health care stakeholders understand the state of the behavioral health workforce and make decisions that impact its future.
The interactive webpage allows the user to search behavioral health provider data by region, county and type of provider, including psychiatrists, nurse practitioners, physician assistants, psychologists, LIMHPs, LMHP and addiction counselors.
---
Campaign Offers Mental Health Resources to Nebraska College Students

College students throughout Nebraska are being welcomed to school this semester with wooden pennies promoting the message "Penny for Your Thoughts Campaign – 1 in 5 Nebraskans have a mental illness. 5 in 5 can do something about it." The wooden token also provides a link to the campaign website, which contains crisis information and hotlines along with content about common mental health conditions and other resources, such as on-campus counseling services.  
---
BHECN Introduces YEOH Participants to Behavioral Health Careers

BHECN was excited to host the behavioral health day at the 15th Annual Youth Expression of Health (YEOH) workshop held at North Omaha High School. The YEOH workshop, organized by Ira Combs, RN, MS, community nurse liaison in UNMC's Center for Reducing Health Disparities in the College of Public Health, and the North Omaha Area Health (NOAH), provides education for youth ages 12-20 who may be interested in health careers, public health and improving the community in which they live.
---
Rural FARM CAMPs Aim to Prep Youth for Careers in Mental Health

Rural high school students interested in careers in mental health fields headed to Rushville and Winnebago this summer for week-long FARM CAMP, a.k.a. Frontier Area Rural Mental Health Camp and Mentorship Program. FARM CAMP introduces rural students to the concept of behavioral health careers that are possibilities within their own communities
---
Hands-on Experiences Resonate with College Conference Attendees

Conducting "simulated patient" interviews was a highlight for students attending BHECN's Annual College Ambassador Conference in mid-May at the UNMC campus. More than 45 college students attended to learn more about behavioral health professions and to hear personal experiences from professionals and patients.
---
BHECN Selects 2016 Award Recipients

Congratulations to BHECN's 2016 Award Recipients presented at the Annual School Mental Health Conference on June 10.
---
High School Students Explore Careers in Behavioral Health at Annual Kearney Conference

More than 70 Nebraska high school juniors and seniors converged on Kearney in April 2016 to learn more about working in behavioral health fields.
---
National Council Honors BHECN for Training and Workforce

The National Council for Behavioral Health recognized the 2016 Award of Excellence winners at its annual awards dinner March 8. BHECN's Director, Dr. Howard Liu, accepted the Change Makers Award for "Champions of Training and Workforce Development." BHECN was selected from more than 1,000 applicants to receive this award.
---
Rural Futures Institute Recognizes BHECN

BHECN participated in the 2015 Rural Futures Institute (RFI) conference held in Lincoln at the University of Nebraska's Innovation Campus in October. BHECN's Director, Howard Liu, M.D., was presented with a recognition certificate from RFI Executive Director, Chuck Schroeder. (pictured left to right) Tara Sjuts, Ph.D., Dr. Liu, Heidi Keeler, Ph.D. and Chuck Schroeder.
RFI awarded BHECN a two-year educational grant to provide a Virtual Mentorship Network, which connects students statewide via teleconferencing to behavioral health mentors in their area of interest. More than 50 students have participated in the program.
---
Hearing Voices Training

Understanding what a patient who hears voices is faced with can help ease communication during care. In November, 60 UNK nursing students participated in the Hearing Distressing Voices training, where they listened to audio through headphones that simulated what someone who hears voices may experience. While listening, the students were put through tasks that would normally happen in a nursing situation, such as a completing an assessment, filling out paperwork, and interacting with others.
---
Report Highlights Efforts to Grow Mental Health Workforce

BHECN recently released its legislative report, summarizing efforts to improve access to behavioral health care across the state by developing a skilled and passionate workforce.
With 78 out of 93 counties in Nebraska experiencing a high need for behavioral health services and 32 counties lacking a behavioral health provider of any kind, BHECN is developing solutions to recruit, train and retain behavioral health professionals, especially in rural and underserved communities. With over half of the state's practicing psychiatrists, psychologists, and psychiatric nurse practitioners over the age of 50, the shortage is expected to grow in the next decade.
---
FARM CAMP

FARM CAMP is a week-long summer program designed to introduce rural students who are interested in behavioral health careers to the field and connect them with mentors working in rural communities.  FARM CAMP was first held in 2013 in Rushville, Nebraska. 
This year, the program expanded to include a week-long program in Winnebago. 
---
School Mental Health Conference
Nearly 300 people attended our annual conference on June 26.  The conference was our first foray into the conversation on school mental health. 
Learn more and view presentation slides
---
Record attendance at High School Conference in Kearney 
A record 64 high school juniors and seniors from throughout Nebraska attended the conference designed to introduce students to behavioral health careers.
---
Project Propel
The peer support workforce will become an increasingly critical sector of the behavioral health workforce.  BHECN launches Project Propel, a workforce development initiative for peer support professionals in Nebraska.  
---
Register today for the School Mental Health Conference

Healthy children are prepared to develop skills and learn effectively in school.  Yet not all children come to school with the emotional and behavioral health they need to succeed.  Learn from national and local experts in school mental health at our conference June 26.
---
High School Conference in South Omaha
BHECN and the UNMC College of Public Health Center for Reducing Health Disparities hosted a High School Ambassador Conference in South Omaha on March 6.  The BHECN Ambassador Program recruits and mentors students from rural and underserved communities from high school through college and professional school and into behavioral health professions.
---
College Ambassador Conference applications now available
The BHECN Ambassador College Conference is a three-day conference designed to help students learn about career opportunities in behavioral health and the current behavioral health care system. 
This year's conference will be held May 10-13, 2015 on the UNMC campus.  Learn more and apply.
---
Behavioral Health Screening in Primary Care
A behavioral health screening tool is a routine assessment of health and well-being that helps clinicians identify problems early. In this interactive module, you will learn why screening tools are effective in identifying behavioral health concerns, what tools can be used, and how to incorporate them into practice. 
View the Screening Tools Module
---
Norfolk behavioral health professionals, educators connect
Students with behavioral health challenges often need specialized services and school personnel across the state report they need additional training and support to help their students. In response to this need, BHECN has partnered with stakeholders in several areas of the state to form Behavioral Health Education for Teachers (BET) teams.  BET teams are currently in place in Scottsbluff, Columbus, and Norfolk.
---
LOSS Team expanding to Omaha metro
Local Outreach to Suicide Survivors (LOSS) is a team of peer suicide survivors and a clinician that respond when a suicide occurs. The Kim Foundation is currently working to expand the LOSS Team model to the Omaha metro. They are in the process of recruiting team members and are in particular need of clinical directors.  
---
Mental and Behavioral Health Care for Nurses Webinar Series
The Mental and Behavioral Health Care Webinar Series provides education on behavioral health best practices for patient clinical care, promotes recovery and reduces stigma for nursing professionals. Featuring psych nursing experts from across the state, the series connects busy professionals with practical clinical knowledge and resources.
---
Student Profile: Anitra Warrior
Part of BHECN's mission is to build the future behavioral health workforce.  Meet Anitra Warrior, a pre-doctoral intern working at Western Nebraska Behavioral Health.
Read more about Anitra Warrior.
---
Mentorship Dinner
Mentors serve a powerful role in our lives and careers.  Getting advice from someone who has "been there and done that" is a great gift and helps students and early-career professionals think more deeply about the direction they want their career to take and how to get there.
At BHECN, we support connecting behavioral health students, faculty and professionals in a number of ways.  One of our signature events, the Mentorship Dinner, was held January 27 at Joslyn Castle. 
---
Ambassador High School Program now accepting conference applications
The BHECN Ambassador High School Conference-Kearney is a free conference for rural Nebraska high school juniors and seniors to explore behavioral health careers and meet professionals who can serve as mentors.
---
Medical students increasingly interested in psychiatry
Building a mental health workforce takes time and it takes the energy of a lot of organizations and institutions working on smaller pieces of the same goal.  When it comes to one piece of the workforce – the number of psychiatrists practicing in Nebraska – we are beginning to see some promising outcomes at the medical school level. 
Learn more about the growth in psychiatry electives.
---
Partner Profile: Project Harmony
In an occasional series on our website, we feature interesting groups, organizations and people making a difference in behavioral health in Nebraska.  We recently caught up with Project Harmony.
Read more about Project Harmony.
---
Student Profile: Crystal Epstein
Part of BHECN's mission is to build the future behavioral health workforce.  Meet Crystal Epstein, psychiatric nurse practitioner and 3rd year Ph.D. student.
Read more about Crystal Epstein.
---
Legislation proposes internships for Master's level students
LB 108, introduced by Sen. Sue Crawford, would provide students in Social Work, Professional Counseling and Marriage and Family Therapy a stipend and placement in a pre-identified primary care office.
---
New tool for behavioral health job seekers and employers

Announcing 
NebraskaBehavioralHealthJobs.com
 – a FREE resource for behavioral health employers and job seekers.
Any employer who provides behavioral health services in Nebraska may post unlimited job openings for free.  Because we believe every position in any organization contributes to its overall success, our scope of job postings includes every level in the workforce, from entry-level administrative support to licensed professionals. Employers include direct or indirect care, including administrative agencies that serve a role in the behavioral health system of care.  
By creating a customized profile, job seekers can search jobs and post their resumes for free. 
---
Project Network addressing need for social workers
Staff at the UNO Grace Abbott School of Social Work are quickly ramping up a program to train more social workers in rural areas of Nebraska.  They received notice in September that they are the recipients of a three-year, $1.3 million award from the U.S. Health Resources & Services Administration (HRSA) to train social workers to work with children and young adults with dual diagnosis of both mental health and developmental disabilities.
Learn more about Project Network.
---
Training for Teachers
Educators are a key part of the behavioral health workforce. Part of BHECN's work is to provide training to both the traditional behavioral health workforce and non-traditional partners, like educators. We partnered with ESU 13 to offer training to teachers and school staff on addressing some of the behavioral health challenges students face.
Watch the training
---
Youth Mental Health First Aid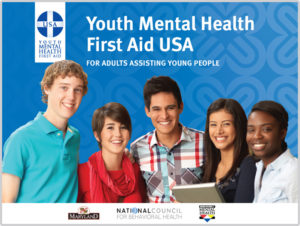 Youth Mental Health First Aid is similar to "First Aid" and "CPR." It teaches individuals how to respond in a mental health emergency and offer support to a young person who appears to be in emotional distress.  Just as you don't have to be a highly educated medical professional to give "First Aid" and "CPR," you don't have to have a background as a mental health professional to provide Mental Health First Aid.
Learn more about Youth Mental Health First Aid and register for an upcoming training.
---
Behavioral health training for teachers
In 2013 the Legislature passed LB 556 that directed BHECN to provide behavioral health training for educators in three pilot areas.  The areas selected were Columbus/Norfolk, Omaha, and the Panhandle.  On October 30, BHECN and Educational Service Unit 13 hosted an all-day conference titled "Behavioral Health in the Classroom Setting."
Learn more about the training and view the presentation materials.
---
Nebraska Legislature takes a closer look at behavioral health workforce challenges
On October 24, BHECN and some of our partners updated the Health and Human Services committee of the Legislature on some of our key behavioral health workforce development initiatives.  The hearing was for 
Legislative Resolution 592
 introduced by Senator Amanda McGill.
Learn more...
---
Running from Crazy film and panel shines a light on mental illness
The documentary was shown to a sold out crowd at Film Streams on October 7, 2014.  Following the screening BHECN's Director Howard Liu, MD, was among the speakers on a panel sponsored by 
The Kim Foundation
.
Learn more...
---
Certified Peer Support Conference
Certified Peer Support is an important and growing part of the Nebraska behavioral health workforce. Certified Peer Support and Wellness Specialists (CPSWS) recently met for their 2nd annual networking conference in Grand Island.
Learn more...
---
Telehealth Training now available online
Telehealth use is expanding all over the country, connecting patients to services they need, but are not able to access in their community. 
In our new interactive module, you can learn about telehealth's evolution, its current use, and how to put it into practice. The module will also identify various indications of behavioral telehealth service delivery, describe telehealth etiquette and best practices, and demonstrate basic skills necessary to navigate the use of a telehealth platform.
Continuing education credits are available for physicians, nurse practitioners, physician assistants, pharmacists, nurses, and LMHPs.
View the module: Telehealth Training
---
BHECN Travels to New Mexico
Last week, BHECN team members traveled to the University of New Mexico in Albuquerque to visit the Center for Rural and Community Behavioral Health (CRCBH). Our new friends at the CRCBH have been working on behavioral health workforce issues for over 20 years and have a lot they can teach us.
Learn more...
---
UNK Professional Development Series
The UNK Department of Counseling and School Psychology is hosting its 10th annual Professional Development Series beginning September 26.
"It is designed to meet the continuing education needs of our alumni, current students, and people out in the field," says Dr. Grace Mims, chair of the Department of Counseling and School Psychology. 
---
Partner Profile - REAL Program
In a new series on our website, we're featuring interesting groups, organizations and people making a difference in behavioral health in Nebraska.  First up, Chad Magdanz and the REAL program at the Mental Health Association of Nebraska.
---
2014 BHECN Annual Conference
Over 150 behavioral health professionals and administrators joined BHECN for the 2014 Annual Conference on Friday, June 20 at the Embassy Suites-La Vista. This year's theme – Innovative Models of Primary Care Integration and Behavioral Health – featured insights, lessons learned, and outcomes from three models of integrated behavioral health both nationally as well as in Nebraska. 
---
Integrating Primary Care Conference
By integrating mental health, substance abuse, and primary care services we can produce better outcomes for people with complex healthcare needs. Our three presenters shared models for primary care integration happening in Nebraska and across the country.

Alexander Blount, Ed.D. – Integration of Behavioral Health and Primary Care
Anna Ratzliff, M.D. – Collaborative Care: Evidence-Based Mental Health Care in Primary Care Settings
Joseph H. Evans, Ph.D. – Integration of Behavioral Health into Primary Care: What's Happening in Nebraska


---
About Behavioral Health Careers
Our quick guide to the most popular careers and education needed to pursue them helps high school and college students figure out some of the next steps on their educational path. View the Behavioral Health Career Guide.

The brochure is set up for legal-sized paper, so just about anyone can download, print and share a copy. Need more than a copy or two? Email bhecn@unmc.edu and we will be happy to mail them to you.
---
Announcing BHECN Kearney
As part of the Behavioral Health Education Center of Nebraska's strategy to grow Nebraska's rural behavioral health workforce, we are proud to announce the launch of our presence at the University of Nebraska-Kearney. More...